Server Intrusion Detection for Every Platform
Open Source HIDS
OSSEC is fully open source and free. You can tailor OSSEC for your security needs through its extensive configuration options, adding custom alert rules and writing scripts to take action when alerts occur.
Multiplatform HIDS
OSSEC offers comprehensive host-based intrusion detection across multiple platforms including Linux, Solaris, AIX, HP-UX, BSD, Windows, Mac and VMware ESX.
PCI Compliance
OSSEC helps organizations meet specific compliance requirements such as PCI DSS. It detects and alerts on unauthorized file system modification and malicious behavior that could make you non-compliant.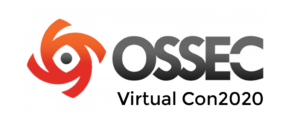 Wednesday, June 24 & Thursday, June 25
Atomicorp is proud to host a fully virtual conference on Wednesday, June 24 and Thursday, June 25. The virtual conference is open to the OSSEC community to share technical insights, lessons learned, and best practices for OSSEC. Day 2 will provide a Hyperqube online training, virtual environment you get to keep for 14 days.
OSSEC Con2019
Atomicorp hosted OSSEC Con2019 on March 20-21, 2019 with over 100 attendees and sponsors.
Day 1 featured Daniel Cid, the founder of the OSSEC project, Scott Shinn, the current OSSEC Project Manager and many others. Topics included the future of OSSEC, using OSSEC to protect workloads in public and private clouds and the power of shared global threat intelligence.
Day 2 was a hands-on workshop where attendees learned rule and decoder writing, how to use OSSEC's auditing system, and how to set up and use OSSEC with ElasticSearch and Kibana.

Atomicorp extends the power of OSSEC through extended security features that enable both detection and protection; with an easy-to-use, powerful OSSEC GUI; and full product support. Visit Atomicorp to learn more about Atomicorp Enterprise OSSEC.